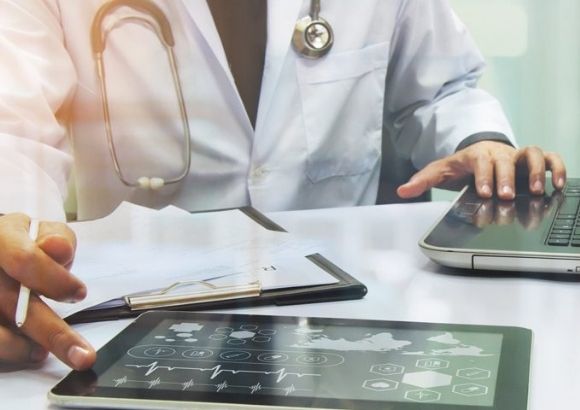 IT Services
As essential as IT is in any organization, it can be time consuming and complicated. Our team can help free up your time to be able to focus more on providing top-level care to your patients. Things like password resets, printer issues, or needing to reach out to your EHR support can make you lose valuable time; that is what we are here for, to ease this task.
How we help
Kentucky RHIO is invested in the success of your practice. We want to help you put tools in place to keep your practice efficient, compliant, and profitable.
EHR Support/IT Help Desk Service
Customer service is our No. 1 priority, and as a result, our EHR support is what our partners appreciate most. We are your personal liaison to your EHR support. When you are having a problem with your EHR system, you call us, and we communicate directly with the provider to fix the issue. No more hours lost on the phone with support representatives, which means, no more frustration and lost time.
IT Project Management
We want your practice to function at its best. Our IT team can conduct assessments to determine what processes and procedures can be changed or implemented to make operations run smoothly and efficiently. Whether adding a VoIP phone system, installing an onsite server, perform IT infrastructure upgrades or purchasing the most cost-efficient hardware and software, our team will ensure your practice is performing at its best.
HIPAA Security
As technology becomes more popular, protecting patient information is one of the most important tasks you face. But because HIPAA regulations change frequently, it is difficult for providers to keep up with current information, maintain appropriate policies and ensure that all employees are informed and following proper procedures. Kentucky RHIO offers one-on-one assistance by offering a comprehensive security risk assessment that, once complete, provides you with ways to mitigate any risks identified; online HIPAA trainings; and HIPAA policy development for your practice.
Network Security
Healthcare data is very sensitive; our technicians are trained extensively on installing and supporting modern technology, from individual machines to servers, along with the security appliances and routers that back them. We will design your network in a way that enables future growth, and that will allow you to work securely from the comfort of your home should you choose to do so. We are equipped to negotiate with Internet Service Providers (ISP) to ensure you're getting the most value from your internet service.